The Trump administration has tapped a former Louisiana utility regulator to lead the agency responsible for offshore oil and natural gas drilling safety.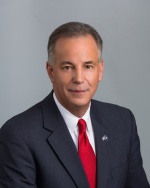 Scott Angelle, most recently vice-chairman of Louisiana's Public Service Commission, is now the head of the Interior Department's Bureau of Safety and Environmental Enforcement (BSEE), the agency said on 22 May.
"Scott Angelle brings a wealth of experience to BSEE, having spent many years working for the safe and efficient energy production of both Louisiana's and our country's offshore resources," Interior Secretary Ryan Zinke said in a statement.
"As we set our path towards energy dominance, I am confident that Scott has the expertise, vision, and the leadership necessary to effectively enhance our program and to promote the safe and environmentally responsible exploration, development, and production of our country's offshore oil and gas resources." Zinke has the power to appoint Angelle without Senate confirmation.
"It is an exciting and challenging time for BSEE; I look forward to leading our efforts to empower the offshore oil and gas industry while ensuring safe and environmentally responsible operations," Angelle said in the statement.